AUTOMATION FOR SWING GATES
Swing Gates remind us of all things old fashioned. They have a retro appeal that is unmatched. Ideally, gates with a length frame of 2 meters to 7 meters are automated. The gear motor used for this type of gates are either hydraulic or electromechanical gear motor.
As far as types of automation for swing gates goes, there a lot of types in which we specialize in. They are inclusive of Bi-directional Leaf opening, and Bi-directional dual folding Leaf opening. As special features, we also integrate security systems, access control systems, GSM module, and android application for all types of swing gate automation. Some extra additives we offer are,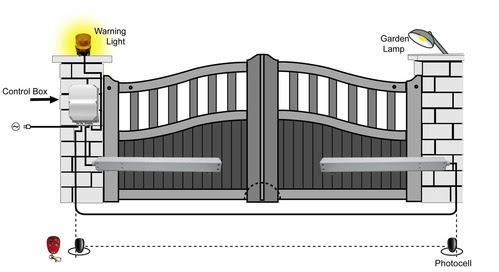 – Models available with frequent, heavy and intensive duty rating
– Electromechanical actuators ensures highly maintenance free and silent operation
– Provision for manual operation in case of power failure
– Model with articulated arms for gates not perfectly vertical and/or with wide pillars, underground operators are also available for ornamental gates
– Built-in anti-crushing safety
– Advance electronic control unit permits operation time adjustment, partial opening, automatic closing, step by step control, stop safety, reverse safety & many more such operations.